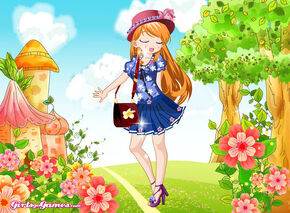 Is a protagonist and an LBX player.
Appearance
Edit
She has a yellow orange hair with a pnk hat with a flower. She wears a blue blouse with white flowers and a blue skirt with a white lining. She has a flower, lavender bag abd lavender high heels.
Personality and Background
Edit
She is a polite person. She is girlish and hates dogs   
Rikajane Loe

Name

Rikajane Lindana Loe

Age

13

Gender

Female

Affiliations

Seekers Affiliation Port or SAP

Occupation

Student, LBX Player, SAP Test Player

LBX(s)

Zenon, Fairytale, Rimaru

Nationality

Half Filipino, Hailf Japanese
which she calls "dumb". Roger has a crush on her and she too, but she is not sure if he likes her too, or he likes Joan. She can also be a jealous person but she is always happy and cheerful so everybody adores her.
CCM and LBX
Edit
Her CCM has two touch screens and colored lavender. She has a long, lasting LBXs called Fairytale and a lavender Zenon. Her test playing LBX is Rimaru .
- She has a younger sister who is an mew mew, named Estrella.