May is a protagonist and a LBX player.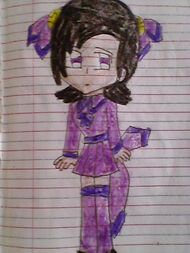 Appearance
Edit
She is a beautiful young lady of an average hieght. She has black hair with  jingle bells on it. She wears an all around violet clothes with  a ribbon at the back and black shoes with long violet socks.      
Personality and Background
Edit
She has almost the same personality as Jin . She  is often sweet to others especially Jin, her  boyfriend. She has a past relationship with him when they were little. She can be a headstrong and brave young lady. She posseses special powes same to Fran , only she has'nt any dark form. She has a tragic past. Her parents died in the Tokio Bridge accident.She and her brother were adopted by a mysterious company called Seekers Affiliation Port or SAP . There, they were trained as LBX Players.                                                                                                                                                       
May Sones

Name

May Leia Sones

Age

13

Gender

Female

Affiliations

Innovator(defected),Seekers,NICS,SAP

Occupation

Student,Cyberlance Test Player

LBX(s)

Dark Kunoichi,Dark Pandora, Flame Empress Minerva

Nationality

Half American,Half Japanese
CCM and LBX
Edit
Her CCM is much like Ami, only her CCM is dark colored.Her preffered  LBX  are dark strider frames.
Dark Kunoichi - Her very first personal LBX. She has this since she was 8.
Dark Pandora - Jin gave this to her on her birthday.
Flame Empress Minerva - given to her by her brother, Krill Sones .
Jin X May
Edit
They met when May lost her wallet.Jin found it and returned the wallet to  her. Because May is so happy  she hugged Jin. Well, Jin refused to be hugged. From that day on, the became playmates and best friends. One day, Jin gave her a a gift - jingle bell ribbons. Jin and  May  blushed.