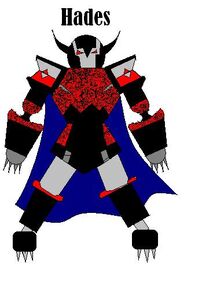 Hades is Xaviers first LBX.It was Designed by Xaviers father who was a scientist in TRAL. This LBX has a restriction release mechanism in him.
Appearence
Edit
The LBX Hades wears a greek style armour which is red in colour and has a helmet with two horns on it this LBX also wears a cape.
When Restriction is released one horn from hades falls . and he gets black wings in this mode hades is as fast as the lightning.
Equipment
Edit
Initial WeaponEdit
Hades's Pitchfork ( special weapon)
Underworld Blade and Lightning sword(Dual sword weapon)
Aegis ( shield when using pitchfork)
Special Modes/Mechanism
Edit